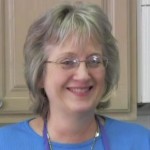 I started dehydrating food about 20 years ago when my husband got me a dehydrator for my birthday. (Yes, I did ask for it!) I dehydrated a lot when my kids were small. When we moved to another city, the dehydrator got put on a shelf in the garage and forgotten about for several years. I rediscovered it a couple of years ago when I started to research food storage methods and have had a lot of fun recently drying all kinds of foods for us to eat as snacks, put in recipes, and supply long term food storage needs.
Today, I would like to start a series on dehydrating food. I will be adding more videos to this series from time to time, so stay tuned. For the first video, I want to show you how to dehydrate oranges and lemons. Oranges and lemons are very easy to dehydrate.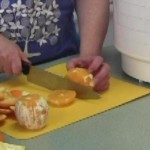 Watch the attached video for two ways to quickly peel oranges so that only the flesh of the orange is left, no peel or pith. Cut slices about 3/8" thick and place on trays. The fruit will shrink quite a bit in the dehydrating process, so do not cut them too thin or they will stick to the tray and you will not be able to get them off. Place on the dehydrator tray and dehydrate at between 105 and 135 degrees for at least 24 hours. If you dehydrate at a temperature under 118 degrees, the food is still considered to be a raw food because the enzymes are preserved.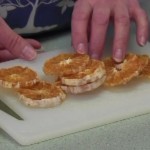 You may dehydrate to a chewy consistency if you plan on using the food in a few days, or you can dry to a dry, crackly consistency if you plan on keeping the food in long term storage.
You can dehydrate several fruits or vegetables at one time. Think about how the flavors and smells will mingle together and put items together that would complement each other. For example I wouldn't dehydrate oranges and onions together. Generally, I dehydrate fruits together and vegetables together.
When I dehydrate the peel of the lemons or oranges, I always make sure they are organic. I peel a thin slice off of the fruit with a vegetable peeler, making sure I only get the yellow or orange part, no bitter white part. In order to make the strips lay flat on the dehydrating tray, I sometimes place a mesh insert on top of them.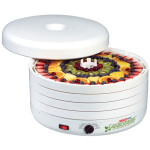 The dehydrator that I use is an American Harvest (now NESCO/American Harvest). You can find them by clicking here.
I like to use dehdrated oranges as snacks, or break them up into mixtures of nuts and fruits. They are delicious! The lemons can be used in any dish that calls for fresh lemons, just make sure the dish has enough moisture to rehydrate them. I like to use them in my roast chicken. The lemon peel can be used as is, or pulverized and mixed with other spices. I use it in my cooking, for making teas, or you could use it in potpourri.
Have you ever dehydrated food? How do you like to use the food that you dehydrate?
I would love to hear your comments and find out what you would like to see on my videos in the future. Just leave your comments in the section below.
Let's eat!
Related Posts
Heidi's Healthy Home – Introducing Our New Series With The Recipe: Roasted Tomatoes