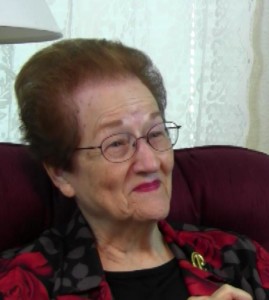 I have had a fully functioning home office since the fall of 1986 when I started graduate school. That's a long time ago. At the time, I thought my next office would be a cubicle in some corporate anthill in Dallas or Houston. Boy was I wrong. My first job out of graduate school was as a sales representative in the Texas Panhandle for a pharmaceutical company. That is a long way from Dallas or Houston.  A home office was expected to be something that I would provide for myself and I did. That was 27 years ago and my home office is still a huge part of my life and our home. I could have never dreamed of launching this blog without it.
Home offices are a sought after part of  the American home now. They are also a tremendous value-added feature of most new homes.  If you don't have one it can be a deal breaker on the sale of a home.  Corporate cutbacks, the shrinking job market, flexible working arrangements and increases in contract labor jobs for American workers are all macro economic conditions that make the home office a must have for more and more home buyers. If you have a room in your home that is specifically created for that function, you are ahead of a seller who does not.
How Do I Start To Get My Home Office Ready for the Sale?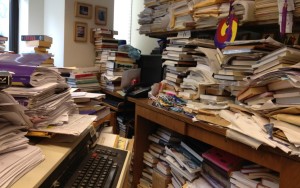 My home office has always been a disaster. File cabinets of all shapes, sizes and colors bundled up in a corner. Book cases crammed to overflowing with books, folders, printing paper, office supplies or whatever I could jam onto the shelves. Walls covered with certificates, awards, degrees, kid's pictures, kid's art and whatever I thought would be clever to hang on a nail. All of this, and I haven't even mentioned the computer power cords and cables. This ruptured bag of snakes that falls down the back of my desks and coils up on the floor could not be any more necessary to the smooth functioning of my office nor could it be any more unattractive – unless, of course, if they really were snakes. I bet many of you can identify with this scenario.
Thankfully, I am not in the position that requires me to sell my home right now or I would have some problems to deal with. However, if that were true, this post presents a file cabinet – see what I did there? – of options I could use to help get my home office in shape. I could make it a feature that will add value to the sale and not scare a potential home buyer away.
Staging Your Home Office for the Sale
Here we are with our sixth installment in our series on home staging. In this post, Super Stager and human file cabinet of home staging know-how, Dorothy Featherling, owner of Stage & Sell in Georgetown, Texas, shares her ideas, tips and tricks on how to prepare your home office so that it adds value to your home sale.
In our last post, Dorothy gave some great tips on getting the dining room into shape to impress your prospective buyers. Now that you have convinced them that your home's dining room is the perfect place for their next dinner party, you've got to convince them that your home office is the perfect place to work so that they can generate the income to put on those amazing parties. Is your home office good to go? If not, Dorothy has some great ideas for you.
Issues to Consider When Staging Your Home Office
Less is always more. If you haven't figured it out by now, this is a consistent and unending drumbeat of advice from Dorothy. Edit, Edit, Edit… You are not trying to sell your "stuff" you are trying to sell your house. The less stuff you have in a room, the more the home buyer can concentrate on how they would use that same space. Give them the space they need to do that.
Consider removing your file cabinets. If they are like my cabinets, they are not all the same shape, size or color. You're probably going to continue to work out of that home office while you are selling your home but cut it down to the bare essentials. If you don't need it, get it out of the office.
Make your office space available for people to easily move around in it. Is your desk positioned out in the middle of the room? Consider moving it against the wall. If you do this you have added many square feet of usable space to your office and given the buyer a chance to appreciate what they could do with that space.
What about the desk itself? I am looking at my own desk right now, and I can just barely see the surface under stacks of paper, business cards, keyboards, coffee cups and office equipment. Dorothy's head would explode if she were to walk into my office and see my desk. Clean that monster off and put it on a strict diet of the most minimal of desk top items.
Dorothy has so many more useful and smart ideas about what to do with your home office in the attached video. Take some time to watch and listen to Dorothy help you manage that situation.
Okay, Let's Wrap This Up, John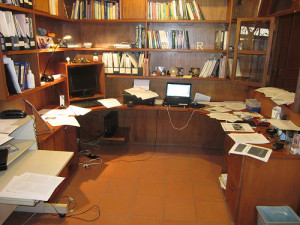 I have grown to realize that my home office is now going to be a permanent fixture in my life and in our home. For better or for worse, this is true for a growing number of Americans. Right now, selling our home is not on the horizon so I can get away with some terrible habits that a home seller should reconsider. However, if you are planning on selling your home and you have a home office, you are going to be in good shape if you follow Dorothy's tips and tricks.
I really can't say that I have some amazing memories that have come out of he countless hours that I have spent in my home office. Frankly, walking out of that room was generally the happiest feeling that I can associate with its existence. It was a quiet and productive place where I was able to work and provide for my family. When that was true, I was able to get a lot of satisfaction from that space. That is the most important consideration for me, and I am sure that is true for you.
Remember that a home office is a very important value-added component to a potential buyer. If you have a dedicated home office space in your house, you have a huge advantage over the seller who does not. However, you've got to manage that advantage to get the most out of it.
 Related Posts: