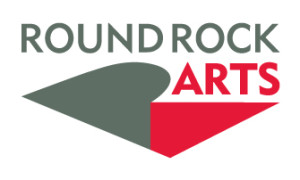 I know a lot about sidewalk chalk. We used to buy it by the bucket full – literally. Both my kids were constantly outside in front of our house grinding the powder out of each piece of colored chalk, and coming back in the house looking like they had been a part of some pastel inspired explosion. We still have a butcher block in our kitchen with my daughter's yellow sidewalk chalk drawings on its side. It will never be cleaned off.
Because of the fond memories of my son and my daughter pouring out their creative energies onto our sidewalk with chalk, I was not going to miss this year's Round Rock Chalk Walk. As I understand it, this whole event was inspired by European style street fairs where artists draw with pastels and chalk on the pavement and sidewalks. I have seen video and pictures of such fairs, but this was my first – it won't be my last.
This past weekend I went to the 4th Annual Chalk Walk sponsored by the Round Rock Arts Council, and I had a blast. Even the weather contributed to my "happy." I was concerned because there was a small chance of rain in the forecast – water and chalk don't play well together. Sure enough the morning was a little nippy and the sky was a little cloudy, but soon the sun came out, the air warmed up, and it all turned out perfectly.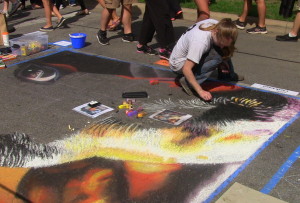 Almost everybody participating was on their hands and knees grinding their chalk sticks into the pavement or onto a board. I saw artists of all ages working away and having a great time. I saw every conceivable style of art which I should have expected but was still pleasantly surprised by. I saw beautifully drawn Norman Rockwell paintings, sidewalk stain glass, and even a Maxfield Parrish for goodness sakes. I also saw plenty of original drawings that were beautifully executed on the asphalt while knowing sadly that they would be lost forever when the next gust of wind blew.
Some of the artists were drawing on a type of poster board. Apparently these pieces were to be auctioned off later in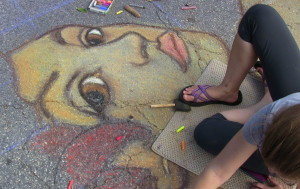 the day, but for the most part, even these sidewalk chalk artists were on their hands and knees getting covered with chalk dust. It was like you were in some very unusual outdoor studio, and you were able to watch these truly gifted artists work their magic on the pavement.
The Arts Council was also sensitive to those of us who are not as artistically gifted but who still want to play with chalk. Plenty of space was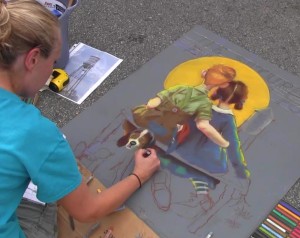 available to both kids and adults who wanted to get their art on. A lot of people were drawing on the street, and they were having a great time. I really enjoyed myself watching people work so hard and have so much fun.
The vender space at the chalk walk was completely sold out. There were plenty of great items to choose from, but I always look for the craft-person whose work makes me stop in my tracks. That is pretty much my definition of art. If it makes me stop walking, and I can't stop looking at it – its art to me.
There were several vendors that did this to me. Teresa Carlson of It Is Your Beeswax was there with her beautiful hand-rolled beeswax candles. I have got to get some of those for my wife. She is a big fan of beeswax stuff. The last time I saw Teresa was at the Centennial Celebration and she was giving a demonstration of how to roll the wax into candles. It was very interesting.
Becky and Carlos Tuesta of Beckinka were there with their Peruvian style jewelry. There are a lot of vendors selling beautiful jewelry at every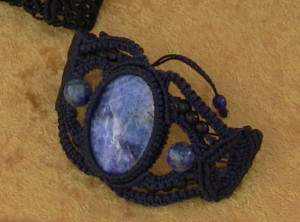 street fair, but Becky and Carlos's work really stood out. Becky uses a string-like, colored cord she imports from Brazil. All of her jewelry styles are inspired by the jewelry done by the local artisans of her husband's native Peru. They are very simple, just polished stone and this beautiful cord, but they are remarkable. They're art you can hang around your neck or wrist.
There was also an artist there who works in wood. His name is Curtis Turner, and he really is a craftsman. His tools are the usual for a woodworker, but he really does some great work with his lathe. He turns rough chunks of branch, trunk and root into beautiful hand made bowls among other beautiful pieces of finished wood.
My last inspired meeting was with a woman who works in clay. She is Brenda Reagan Armistead of Granny Goodfish. I am fan of pottery for a number of reasons. I think the most important reason for me is that it is art you are able to hold in your hand.  Its practical.  You can eat out of, drink from or even wash your hands in it. It is a very functional form of art. Brenda's work is inspired by the sea and water. It really caught my eye.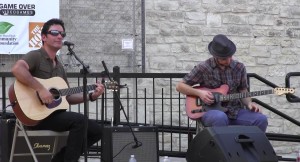 The music was great too. Round Rock really knows how to bring great music to an event, and with ACL going on just now, you would imagine all of the great bands are roaming around Travis and not Williamson County. Still, they were here. I was able to capture on video a great cover of a Bob Dillon's knockin' On Heaven's Door by One Resistance. Steven Cinti and Dino Panichi were flawless in their interpretation, and I was very impressed. It's on the video so take a minute to watch it for a treat.
I wanted to get someone from the Round Rock Art's Council to give me a short interview and I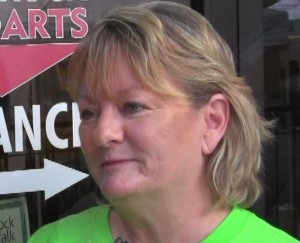 got the President, Kris Whitfield no less. Kris had a busy day due to her responsibilities as Round Rock's Mayor Pro Tem and as a person deeply involved in making sure the Chalk Walk was a success. We have to tip our hat to Laurie Mahnke who was this year's Chalk Walk Chairperson and the entire Chalk Walk committee that puts this great Round Rock event on each year.  Kris does a great job of explaining the whole event on the attached video, so I encourage you to take a couple of minutes to catch up on that with her
The video also contains a great sample of the amazing artists and craft vendors from the event. I had to leave early to shoot another video for another post, so I missed a lot of the day. However, I am going to plan a little more carefully for next years Chalk Walk so that I get a chance to spend the whole day there.
By-the-Way, next year's Chalk Walk will be October 3rd and 4th, and it is likely that the event will be held at Round Rock's Centennial Plaza to accommodate for its growth and popularity. If you want to learn more about the Chalk Walk, you can visit the Round Rock Arts Council website or just click here.