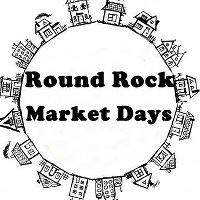 Well it's starting to get a little warm, and as usual here in Central Texas, people are looking for something cold to drink and a shady spot to sit in. Summers can be hard to deal with here, but under the right set of circumstances you can get a Texan outside on the weekend. I have another reason for you to venture out of doors  this summer.  Why don't you come by Round Rock Market Days on Main Street in downtown Round Rock. The temperatures are warm but the merchandise is just so cool. (See what I did there?)
I think I have mentioned this before, but I love street fairs. It is the essence of community. One of your neighbors works really hard all week creating and building, and they pack it all up and haul it down to Main Street for us to have a chance to check it all out. Most of the booths there offer one of a kind services and merchandise. It is so much better than Wal-Mart or Target.
Sherri Arrington and Annie Urban, of Mainstreet Productions, are at it again as they will be every first Saturday until the end of the year except for October when Round Rock Market Days ends up on the second Saturday of that month. Sherri and Annie have done such a great job of filling up Main Street with some truly unique and colorful vendors. Please don't forget to drop by and say hello to Sherri and Annie when you go there to shop. It is thanks to these two ladies that we have this great street fair to look forward to each month. To learn more about Round Rock Market Days and Mainstreet Productions, please click here.
Here are the hidden treasures in our own back yard and I'm not just talking about their goods and services. I'm also talking about the people. You really should get to know the person that is attached to the hands that work so hard to make a difference for themselves and their families. It really does take a huge amount of courage to take all of the emotional and financial risks these folks are taking. Take some time to drop by if for no other reason than to get to know these remarkable people.
Another important idea to consider is that when you drop by a street fair and find something to buy you are keeping your hard earned money here in Round Rock where a large part of it works to build schools and roads. Shopping local is just a smart thing to do for your community.  You'll be supporting local performing artists as well.  Sherri and Annie always have live music at each fair, and this past Saturday Victoria Pennock performed.  It really was a treat.  Check out the video and you will see a little of Victoria's work.
Don't get me wrong, Wally World and Target have their place but you would never be able to find that one of a kind hand painted bird feeder there. You wouldn't be able to find the best Bloody Mary mix north of the equator. I bet you wouldn't find a fair trade soap nut there. Do they have a henna booth where you can get all dolled up for a party or a wedding? I don't think so.
Speaking of henna, I found a sweet little woman by the name of Nisha Agrawal of Henna Arts, a local business. Nisha's booth was filled with the most exotic and eye catching art and jewelry. It was like someone had taken a booth out of an eastern bazaar and dropped it right down here in Round Rock. Nisha tells me that in India, where she is from, art is not only very colorful but detailed and intricate. Nisha's art really is an eye feast. Her college degree is in mathematics and you can tell that skill really comes in handy for Nisha when you take in the complex designs of her colorful artwork. Please keep an eye on this space for more detail on Nisha and her work. If you want to learn more about Nisha and her work please click here.
Another great lady who owns a business that I'm sure is going to clean up is Rachel Leonard of Round Rock Soap Nuts.  Seriously, Rachel is the only person I know if in this area who is selling soap nuts. For those of you who aren't married to my wife, Heidi, who knows all there is to know about this great alternative to commercial detergents, soap nuts are a 100% natural, organic way to wash your clothes. Soap nuts hold in their shell substances called saponins. Saponins are surfactants and surfactants are way too complicated to explain here.  Just know this, soap nuts go in your cloths washer and not in a bowl on your coffee table. Heidi loves these things and now that she knows how to get them locally she's gonna be calling on Rachel. If you want to learn more about Round Rock Soap Nuts, Rachel or how to get your hands on some of these amazing little berries, click here.
What the Chuck was at Market days again too. Do you love Bloody Marys? Are you going to host a party pretty soon and plan to have that old favorite on hand? Do you want to support your friends and neighbors right here in Round Rock? Well, if your head nodded up and down to all of those questions then you need to give Chuck Smith and Michelle Young over at What the Chuck Mix a call. To learn more about What the Chuck please visit their website here.
Texas Best Popcorn was there again. Lord have mercy!! Mark and Kandi Zimmerman make some good kettle corn.  At some point during my visit there I found myself following the delicious smell of kettle corn right back to their booth. It is irresistible. It's almost embarrassing to talk about how much I love their kettle corn. Texas Best has got to make some of the best I have ever tasted. Got a sleep over coming up soon? Having all of your friends over for pizza and a movie? Youth group having a summer time lock in? If any of that is true then you are going to want to get a super jumbo bag of Texas Best Popcorn. Seriously, I think my cheeks are a little red writing about this.
Kris Martin and Loggerhead Creations made a return visit showing off and selling her terrariums.  I have to tell you they would be such a perfect Father's Day gift for dad.  Kris makes the terrarium from a plant that doesn't throw down roots and lives off of the water in the air or whatever you spritz on them.  They are so dad proof and would look great on his desk.  Check out Kris's Etsy and Facebook pages for ideas.
Do you want your knives sharpened? I have two machetes that I take way down south every year before garden season heats up and get them sharpened. I won't have to travel as far now that I have found Extreme Sharp – Mobile Knife Sharpening. This is going to save me a whole lot of time and my buck stays here in town.
Finally, I found my wife's next Mother's Day, birthday, or Christmas present and it's a hand built ceramic bird feeder from Sharon Jean's Bird Appetit. It's just so darn cute. These bird feeders are like little tea cups or bowls on a rod that you set out around your home or in your garden. You fill them with bird food and there you go. Heidi, my long suffering wife, has been trying for the past couple of years to single handedly turn our backyard into a garden paradise. She has really started to whip that space into something special. I think a couple of Sharon Jean's bird feeders would be a great way to spice up the garden.
Remember, Your Local Color.com is all about local and in particular, Williamson County.  We really don't need to look far to find a million treasures in our own back yard.