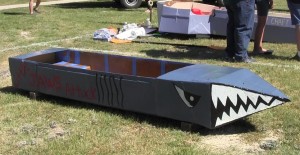 More wet and wild fun was had in Round Rock this past weekend at the Parks & Recreation sponsored Round Rock the Boat Regatta. This family friendly event held at the lake in Old Settlers Park featured handmade cardboard boats and a lot of good times.
This was the eighth annual regatta where contestants bet that their boat building skills and seamanship would put them across the finish line first. The most important boat building rule is that the craft has to be made out of cardboard. That's interesting, because I know that cardboard and water don't play well together.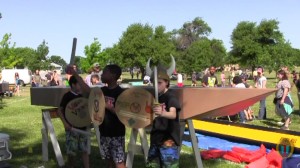 To help make their craft a little more seaworthy, boat builders are able to use masking tape, acrylic latex, glue, paint, and polyurethane. This helps to keep the water out of the boat, and lends itself to some very creative designs. Creative they were. I saw a Viking long boat, a catfish, and even Star Trek's USS Enterprise.
The other thing I saw was people having a lot of fun. We really have to tip our hats to the folks at Parks & Recreation for sponsoring all of these great events for us to enjoy. Earlier that same day, Parks & Recreation hosted the Muddy Miler Family adventure at the same location.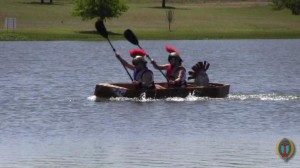 Don't feel left out if you missed this year's fun because there is always next year. If you're inspired by what you read and see here, you can plan ahead for next year. Round Rock's the Boat Regatta is always held in May, and if you're serious about joining in, there is a boat building school held ahead of the regatta that will teach you everything you'll need to know to build your own boat.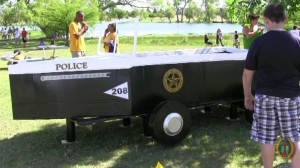 All sorts of groups and even individuals entered the regatta, but I think the crowd favorite was the boat entered by the Round Rock Police Department and Captained by our new Chief, Allen Banks. The boat's inspiration was Round Rock PD's 1940 Packard patrol car, and it even sported a replica of the car's beautiful hood ornament.
Heidi Tucker, who was a crew member and a volunteer with the Citizen's Police Academy, told me that more than 400 volunteer man-hours went into building the boat. I have to say that it was a big success because Round Rock PD's entry made it around the course in great time, and everyone seemed mostly dry at the finish.
Again, if you're interested in joining in next year, and you're thinking this would be a great event for your family or group to participate in, contact the Round Rock Parks & Recreation team.
Related Posts