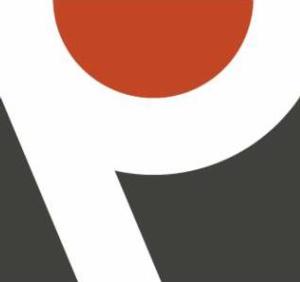 There is not a Christmas that goes by that I don't watch Frank Capra's classic holiday heart-warmer, It's a Wonderful Life. George Bailey will always be one of my favorite characters. Released right after the end of World War II and filmed in black and white, it is a timeless story that reminds us what our true gifts really are – life and family. I just love it.
Like most everyone else my age, I have watched that movie countless times over the years. Capra caught lightning in a bottle in that effort which is something rarely done with a camera.  It never gets old. Somewhere we have a DVD of it in our movie library. I really should take it out and watch it more often than just at the holidays. It is such a tonic, and so good for the soul.
There have been a handful of attempts at capturing the Capra magic over the years. It Happened One Christmas featured Marlo Thomas in the George Bailey role as Mary Bailey. It was different and interesting, but it, like most attempts at reproducing a masterpiece, didn't come close. Marlo Thomas didn't do it for me, but I think that Penfold Theatre's production of It's a Wonderful Life: A Live Radio Show really does the trick.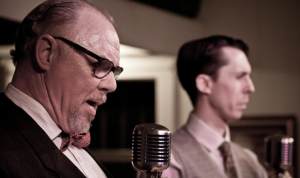 For me there's nothing like live theater. I mean, movies today are great, and along with computer generated special effects, they can do so much to dazzle you. But your imagination coupled with live, talented onstage acting produces an indescribable effect that is rarely captured by a camera.
So how do you do It's a Wonderful Life on the stage? It must be quite a production with dozens of actors and even more extras to fill in the scenes. The set must be pretty elaborate to capture 1940s Bedford Falls, New York, right? Well, no. It's much simpler than that. Maybe there might be a twist you didn't expect at all.
It's a Wonderful Life: A Live Radio Show is set in the studio of radio station KPNF on Christmas Eve in 1946. Instead of a full cast, five actors dressed in period costumes play all of the voice and character roles just like it was done in the golden age of radio. No Bedford Falls set is required, as old style radio microphones and the On Air and Applause signs are pretty much all props the actors will need. Special effects are not done by a computer but by old-fashioned Foley effects, which are as old and as low tech as radio itself. For the audience, it is like you have a front row seat in a studio where an old-time radio drama is being produced. I don't know about you, but for me, that's magic.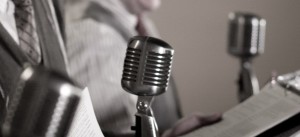 Ryan Crowder, Producing Artistic Director for Penfold, and Director, Emily Rankin, take some time in the attached video to go into some of the details associated with this year's production. I have also captured in the video some great rehearsal footage for you to enjoy.
This is the third year that Penfold Theatre has put on It's A Wonderful Life: A Live Radio Show. This year the location of the play is at Rice's Crossing General Store at Old Settlers Park in the historic village next to the Dell Diamond. The performance will run from December 5th through the 22nd. Performance times will be Thursdays and Fridays at 7:00pm and Saturdays and Sundays at 3:00pm and 7:00pm.
Sounds like fun, right? For more information on It's A Wonderful Life: A Live Radio Show, or to find out how to purchase tickets, please visit Penfold Theatre's website or just click here.
Related Posts: