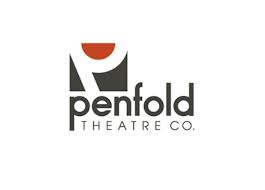 Thinking back when I was a kid, I remember my first adventure story and how thrilling Disney's 20,000 Leagues Under the Sea was. I loved Captain Nemo's submarine and all of the fancy gadgets on board. But it was the adventure that was the biggest draw. Going somewhere nobody else had ever been was the goal. Because of that story, I became addicted to fantasy adventure movies and books like Treasure Island, Journey to the Center of the Earth, Robinson Crusoe, Moby Dick, Kidnapped, Robinson Crusoe on Mars (It's for real. Google it. It was an amazing movie for a five year old boy), Swiss Family Robinson, The Lost World and on and on.
I couldn't get enough of that kind of entertainment and I knew that one day I would explore
the great unknown. That dream proved fleeting. When I found out there really were no more unexplored desert islands and that the center of the earth was really a blob of molten iron and nickel, I almost gave up on life. Was I going to spend the rest of my life mowing yards in Waco? What was left to do, I asked myself.
Well, there are still great books and movies to explore and as I grew up I found out that life can be a great adventure even if you never set foot out of your own home town. Getting married and starting a family became my most important high sea adventure. Raising kids was my trip up a tornado in a frame farm house. Teaching my son to use the toilet and not his diaper was my sea monster encounter. It has been a thrill a minute. Still, when life starts to get me down, I can still imagine myself as Tom Hanks, alone on a desert island with nobody to hassle me and my best friend is a soccer ball, but I digress.
At this point in my life, instead of retreating into a fantasy world (believe me, I've tried) it is a lot healthier and much less expensive to just find a great book, movie or play to retreat into for a few hours. I think I have found my next retreat. It is Penfold Theatre's Shipwreched: An Entertainment. I can't wait to see the magic unfold starting this June 6th at Round Rock's brand new Centennial Plaza Amphitheater. By the way, its free.
I got the chance to visit again with Ryan Crowder, Producing Artistic Director, and Nathan Jerkins, Associate Artistic Director, of the Penfold Theatre group. Ryan is directing Penfold's production of Shipwrecked, and Nathan is a cast member for this go around. You might remember both Ryan and Nathan from my blog on A Marvelous Party that I did a while back.
Ryan filled me in on the amazing back story behind Shipwrecked both in terms of its playwright, Donald Margulies, and the subject of the play, Louis De Rougemont. Louis De Rougemont was a real person who actually left England in the late 1800s on a real high seas adventure. He came back and wrote a celebrated book on his travels and his story is full of amazing and chill bump inducing anecdotes. At first, he was celebrated in England but that would not last very long.
The tale, Louis's tale, gets a little complicated in that once the blush is off of his story's rose and the experts start scratching their heads, mentally adding up the facts, a lot of doubt creeps in and he loses a lot of credibility. The play is therefor Louis trying to convince the audience that what he experienced is, in fact, true.
It is a great story full of tall ships, sea monsters, desert islands, aboriginal peoples, college professors, dogs and even Queen Victoria among many, many more characters. With all of these characters you would expect a huge cast but that isn't the case. There are only three actors and these three actors play a lot of people and even some non-people. The play features Robert L. Berry as Louis De Rougemont. Nathan Jerkins and Julie Linnard are also in the cast but they end up playing a Rolodex of characters too numerous to mention. You can watch them all on the attached video rehearsing for the June 6th opening.
Watch the video to get a better idea of what you might expect. It promises to be a great story and very family friendly. It might be a challenge to get your Xbox addicted kids away from their console but, tempt them by saying you'll throw down a blanket and bring their favorite treats to nosh on while they watch. Remember, and this is real important mom and dad, it's free. The other thing that is important is, in spite of the push back you might get from your kids, they will not only remember this rest of their lives, it will be one of their best memories.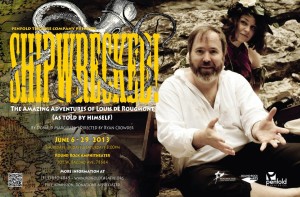 Seriously, mom and dad, this could be a life changing moment for your kids. When they look down on the stage they will be watching real people acting and not some computer generated image on a flat screen. Their thumbs might twitch while they search for an imaginary controller but with a little time, they might discover their imaginations. That is way better than anything that a Play Station or an Xbox could deliver. Did I mention it's free?
For more information about dates and times for Shipwrecked, more information on Penfold Theatre and future productions or anything else you might want to know about this Round Rock treasure, please click here.
Related Posts: