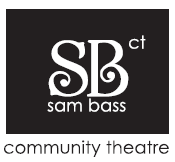 We all have our favorite Christmas holiday stories, movies, shows and plays, and there are multiple versions of each one to choose from at this time of year. From Charlie Brown to The Little Drummer Boy, the holidays are filled with a rich assortment of our favorite stories and characters. At the top of that list of favorite stories and characters for many is Charles Dickens' A Christmas Carol and the arch-Christmas villain, Ebenezer Scrooge. We have grown so familiar with that beloved story of redemption that phrases like "bah-humbug" and "God bless us, every one" instantly put us in the holiday spirit.
Still, there are so many other truly great Christmas stories. How do you find time to catch up on all of them with everything else to do this time of year? Well, one way is to catch Sam Bass Community Theatre's production of Mrs. Bob Cratchit's Wild Christmas Binge. In this play you are going to find many of the characters from your favorite holiday stories all jumbled up in this slightly tilted version of Dickens' classic Christmas tale.
Mrs. Bob Cratchet's Wild Christmas Binge has most of your old favorite A Christmas Carol characters in it minus a few ghosts. A lot of the fun comes when it introduces characters from other well known Christmas stories and some characters and stories that are not so Christmassy. During this holiday brain-candy feast, you will find other familiar Christmas characters like George Bailey and his guardian angel, Clarence, all the way to some very un-Christmassy characters like Queen of Mean, Leona Helmsley and Enron's Ken Lay. I know, it sounds a little off-the-wall and that is because it is.
A good reason for its unusual style is because it was written by Christopher Durang who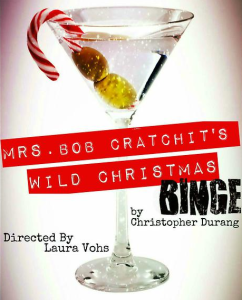 is well known for his dark and bizarre comedies. In the attached video, Frank Benge explains that when Durang set out to write this play, he really wanted to do something that was not a simple redo of the famous old tale, but a completely different take. Durang succeeded. I have never seen anything like it.
The center of this version of Dickens' story is not Ebenezer Scrooge, although he features prominently, but rather Mrs. Bob Cratchit. Mrs. Cratchet appears to us as an utterly worn-out mother of twenty one children (most living in the basement) whom she treats with undisguised contempt. Mrs. Cratchit is well past making sense out of her wretched life and we find her at the beginning of the play contemplating, much like George Bailey, an unpleasant resolution to her current situation.
To complicate matters, and to make the play even more hilarious, the ghosts that Marley warns Scrooge about are all rolled into one ghost, and she really needs to work on her conjuring game. She is certainly well intentioned, but as Frank says in the video, "she can't get it quite right."
The cast and crew are all Sam Bass, and the kids who appear in the play are Sam Bass Youth Guild. Please watch the attached video for some rehearsal teasers and snip-its. I really had a great time catching the rehearsal, so the play has got to be fantastic.
Mrs. Bob Cratchit's Wild Christmas Binge is scheduled to run this December from the 6th through the 29th, Thursday through Saturday at 8:00pm and Sunday at 2:00pm. There will be no showing on Christmas Day. For tickets, please visit Sam Bass Community Theatre's website Box Office or just click here.
Related Posts:
What's Going On At Sam Bass Community Theatre
Round Rock's Sam Bass Community Theatre – More Hidden Treasure