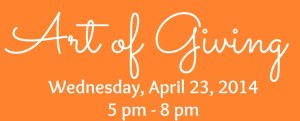 Next week on Wednesday, April 23rd, the Second Annual Art of Giving fundraising event will be held to raise money for the Backpack Coalition of Round Rock and Backpack Pfriends Ministry. Those who follow this blog will remember a post on the Backpack Coalition in this space last November. If you were moved by the hard work of this dedicated group of people, here's your chance to help out and have a little fun too.
If you didn't catch that November post let me fill you in on these amazing people and what they are doing to help fight a big problem in our local schools. It's hunger. Can you imagine? Here, in one of the most prosperous places in the world we have a hunger problem – in our schools. Crazy, right? Well, we do, and this dedicated group is fighting hard to beat it.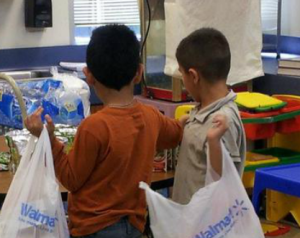 As I noted before, our schools are doing a tremendous job with the food programs they are responsible for at breakfast and lunch. There is no shortage of kids taking advantage of that service. However, there is the weekend, and as hard as it is to imagine, many of these same kids are not getting the nourishment they need over the weekend. That's where the Backpack Coalition and Backpack Pfriends Ministry comes in.
Both of these groups drop by several elementary schools in the area each Friday or Thursday during the school year and provide hundreds of children with enough food for the weekend. The kids get to pick out their favorite food items from a selection provided for them. It is enough to fill up their backpacks and that's where they get the name. Very cool!!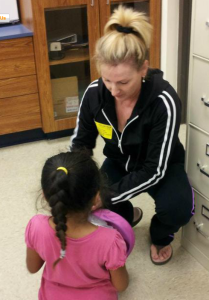 All of this is done with zero administrative costs and for only five dollars per child. Hard to believe, right? Well it's true. Still, there are costs that have to be met to keep this effort going. Even at five dollars per child, the costs mount when you consider this is done every week of the school year for hundreds of children.
Please see the attached video for more details on how this effort is helping our community.
You don't need a calculator to know that this can get expensive and, if you're motivated, the Art of Giving this Wednesday the 23rd will be a chance for you to drop by and help out.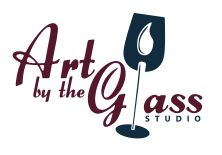 The Art of Giving is a "fun come and go event" that will include food, a celebrity art auction, prizes and treats for your sweet tooth. The event will be held at Art By the Glass Studio at 2000 S IH-35, Ste. Q2 here in Round Rock from 5 through 8pm. Art By the Glass Studio is located around the side at Sky Ridge Plaza facing Old West Drive.
As I mentioned above, there will be a Celebrity Art Auction featuring the creative output of some of our community and business leaders. Here you'll get a chance to bid on art created by these folks. All of the funds raised by this event will benefit both the Backpack Coalition and Backpack Pfriends Ministry.
Admission for the Art of Giving will be a food donation or ten dollars. Some of the food items event organizers suggest that you bring are.
Armor Vienna Sausages (18 ct.)

Chef Boyardee Ravioli (8 ct.)

Ramen Noodles (36 ct.)

Kraft Easy Mac Cups (8 ct.)

Mott's Applesauce (36 ct.)

Minute Maid Juice Boxes (40 ct.)

Quaker Oatmeal (52 ct.) (All found at Sam's or Costco)
So, if you're looking for some creative fun and excitement, and you want to help out this great cause, please put this event on your calendar. Drop by, pick up some art and help fight hunger in our schools.
Related Posts