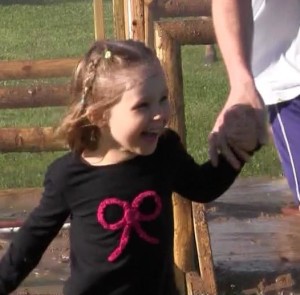 If you were at the Muddy Miler Family Adventure this past weekend, you enjoyed some good, clean fun…well, sort of. The annual Muddy Miler event is a mile long mud obstacle course around the lake at Old Settlers Park. I guess you're supposed to get around the course as quickly as possible, but I really think what you're really supposed to do is see just how much mud you can bring back with you to the finish line.
This was the third annual Muddy Miler, and more than 2,600 people showed up for the family fun, the exercise, and the mess, and it WAS a total mess. Dads, brothers, sisters, cousins, aunts, and uncles were sopping wet and caked with mud from head to toe. The cool thing was that mom didn't mind at all. In fact, she was just as muddy as the rest of the family, and not a single hoot was given.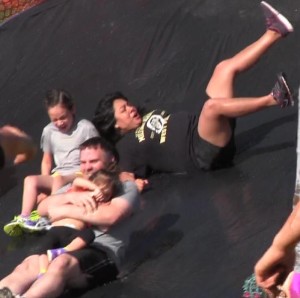 Runners set off in large groups that trotted around to a series of twelve wet and muddy obstacles that they had to climb, hop over, or wade through. I saw people jumping over hurdles, sliding down the side of a wet hill, and wading through a muddy trench filled with icy water.
Please see the attached video to get an idea of how much fun everyone was having, and how much work went into putting on this great Round Rock Parks & Recreation event.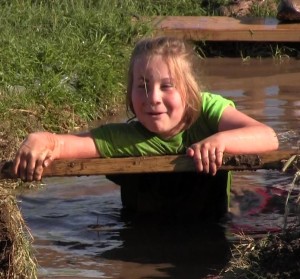 Roger Heaney, who is responsible for Marketing, Communications, and Media Relations with the Parks & Recreation Department, points out that the goal of the event was not only to get people out to Round Rock's amazing park facilities, but also to get people physically active. I'd have to say, "Mission accomplished."
Roger tells me that in the past he has joined in the muddy fun, and it is traditional for several of the Parks & Recreation team to participate. This year I think Roger pretty much stayed out of the mud, but I did see Director of the Parks & Recreations Department, Rick Atkins, covered in mud, so I know that he took advantage of the opportunity to join in on the fun.
All kidding aside, you can tell when people are enjoying themselves immensely. There was no doubt in my mind that the people I saw were having a blast. Thanks again to our award winning Round Rock Parks & Recreation team for another great event.
Related Posts