My mom was an animal person. If you have read any of my past posts, it is likely that you are familiar with her. If you have read all of my past posts, you probably know her pretty well. She was amazing. She was a through and through animal person, and it seemed that her enthusiasm for taking care of misfit and outcast critters was inexhaustible.
I often imagined that there was some kind of "word of snout" underground network that informed lost cats, dogs and other homeless critters that the lady on Crow Drive with the funny accent was good for food, drink and a little shelter. She never turned any animal away and would post advertisements in the Waco Tribune until she found someone to take them home. That's a fact. She was a one-woman animal rescue service.
While I was growing up in the 60s and 70s, I don't remember there being any sort of organized rescue of abandoned and mistreated animals. If there had been one, mom would have either known about it or would have been involved. What did we do with all of those poor creatures in those days? Outside of the local animal shelter it was probably people like my mom that took up the slack. I guess the need grew and grew until the kindhearted among us had to do something to get help with the burden. I know there was nothing to spread the word in those days besides TV, radio, newspapers and word of mouth or snout.
Today there are many animal organizations available for you to research if you are looking for a way to help with the growing problem of abandoned and homeless animals. Again, if you have been following my blog you will know that I have done several posts on Shadow Cats – a local organization that rescues cats. Blue Dog Rescue is another area organization that has a similar mission but, as if you haven't guessed by now, they are dedicated to the rescue of dogs.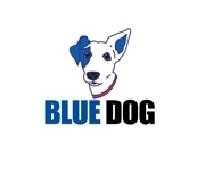 Blue Dog Rescue was formed several years ago to stop the killing of homeless dogs in this area. Thousands of dogs are killed every year in Central Texas because they just run out of time. There is a limit of time for each dog based on the lack of resources available to many local shelters. Once a dog or a cat is placed in a shelter, the clock starts ticking. Unless someone decides to adopt them, they are simply put down. Put down, if you haven't guessed it, is to kill them. So many of these helpless animals would be perfect as a pet, but they just don't get the chance.
Blue Dog Rescue makes it their mission to seek out these dogs – dogs about to be euthanized – and they save them. They are a group of volunteers that open their homes to these dogs and foster them until a new home is found. They don't just keep the dogs from being euthanized, they also provide them with a complete veterinary evaluation, make sure they are spayed or neutered and have their immunizations up to date, and that's just for starters.
Soon after being rescued, each dog is placed in a volunteer's foster home. This is done not only for them to find shelter but also gives Blue Dog foster volunteers the chance to evaluate each dog for proper placement and to socialize them to home life. Some of these dogs are rescued off of the street, so an adjustment phase is a good thing for these poor guys.
Blue Dog doesn't arbitrarily place the dogs in any home. Each adoption is carefully vetted so that the prospective new home is a good match for the dog. It is a great way to assure that a Blue Dog pet doesn't end up in a revolving door. There is also an adoption fee of $165 that helps cover the veterinary services and microchip placement with Home Again. This really is a good deal because, if you were to cover all of those services for yourself you would be out about $300.
Blue Dog Rescue has several members here in Williamson County, which is no surprise to me. This is a community of big hearts. I wasn't able to speak to a Round Rock or Williamson County resident about Blue Dog Rescue, but I was able to speak with a North Austin volunteer Liz Garcia. Liz not only gave me an informational interview, but she also brought along one of the Blue Dog Rescue dogs, Hannah. Please take some time to watch the video and learn more about Blue Dog Rescue and Hannah.
Hannah is a pit bull mix but don't let that concern you. Saved from a shelter in Irving, Texas, she is one of the sweetest dogs I have ever met. Watch the video to get an idea of just how gentle this girl is. She loves to be with her human and, even though she is a chunk, she might just be the perfect lap dog for the right person. Please visit her profile on Blue Dogs or click here.
My mom passed away this past March at the age of 89. She died so peacefully and quietly with her family packed into her room and surrounding her bed. Her grandson, Russell was holding her hand as she took her last breath. She left us like a lamp that used up the last drop of fuel. The flame just flickered a little and then it went out, and she was gone. What a gift that was to those of us who knew her and loved her so much. It will be a memory I will carry for the rest of my life. I wonder how many of the animals that she fostered in her long life had the same chance to pass away so sweetly and so gently.
Please go to Blue Dog's website so you can see a list of dogs being fostered by Blue Dog Rescue and available for adoption. You'll find Hannah there as well as many other dogs waiting for a forever home. Blue Dog Rescue's website also has a list of dogs available for adoption by referral.  If you feel so inclined, there is also a way for you to find out how to support this organization through financial contributions, with fostering or volunteering.